For anyone who has followed along with my various startup projects and posts here on justinmcgill.net, you'll be in for a treat.
I'm happy to announce that I am launching a podcast alongside Greg Hickman where we discuss taking a startup idea and growing it into a scalable business.
I'd like to officially announce, Zero to Scale (head over here to sign-up for the list to be notified of the launch, giveaways, and more)! Site looks a little empty as we just have the one announcement post up currently, but more audio clips and posts are coming so check it out.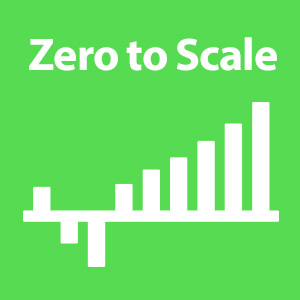 As a standalone logo, this may look a little strange. However, when you look at it in iTunes (or a podcast player) and are looking at various podcasts to listen to, this logo definitely pops and it signifies the struggles you face. Many might have you believe you just take a startup and grow it right from the beginning (I've been fortunate with LeadFuze as it has done that so far), however there are quite a few challenges you face (hence the down bars in the logo).
Helps Us Form a "Thunderclap"
It would be super awesome if you helped us form a "Thunderclap" by showing support with Twitter or Facebook on this link. Here is a screen shot: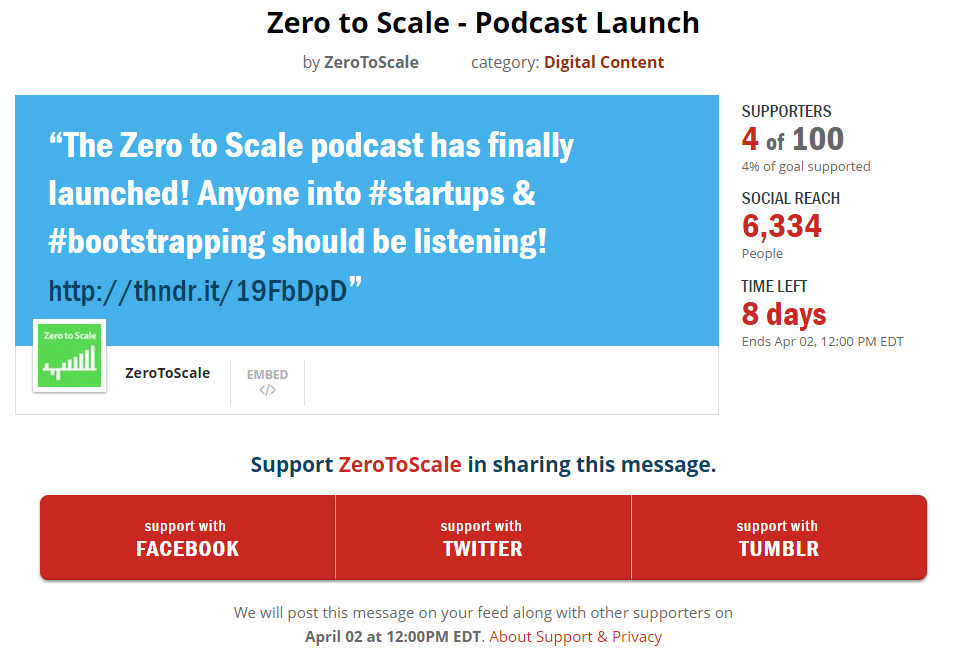 If you click the "Support with Twitter" or "Support with Facebook" it will take that pre-created message you see and post it to your timeline on the designated date/time. That date/time is when the podcast should be available in iTunes and on other networks like Stitcher.
Here is What You'll Learn
We are taking you behind the scenes as we scale our businesses. You will hear us talk about the challenges we are facing, growth strategies we implement, the successes, the failures, and all the lessons learned along the way.
You can think of this almost like a mastermind, but it will be shared with you in the open. We are planning on two episodes per week (Monday and Thursday), with bonus interview episodes from time to time.
What I've Learned About Launching a Podcast
Thankfully my co-host has over 100 episodes under his belt and knows the ins and outs of podcasting. He was able to guide me through the equipment purchases and the processes he's used. I don't know that I would have ever gotten around to doing this without a co-host. I realized I prefer podcasts with two people and so I wanted to have this format with the right person.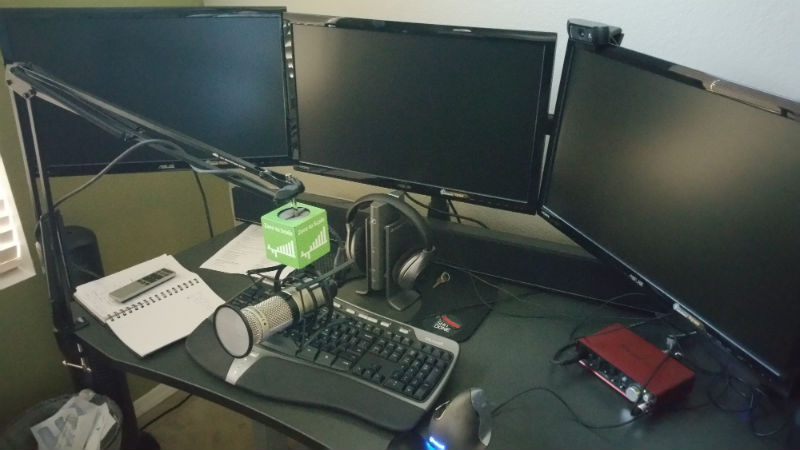 I also learned quite a bit about what goes into a professional podcast. Aside from equipment, there's a lot of episode planning, content/questions to create for within the episode, editing, and on and on. I also want to offer content upgrades within the show notes to help build our list so we need to map those things out as well. I decided to go all-in and even got a custom mic flag with our logo on it from ImpactPBS.
The challenge almost every podcast faces is getting the listener back to the website. Most people are listening while they are doing something else and can't just pull up the website right then and there so I am thinking of how we can be creative with this ourselves.
Why I am Launching this Podcast
There are a few bootstrapping/startup related podcasts already out there. Some of them are amazing and I listen to them religiously. I feel that since I really discovered podcasts last summer, I have grown as an entrepreneur by leaps and bounds.
However, no one is taking you INTO their business. Not like this.
My goal for wanting to start a podcast was two-fold. I wanted to be able to give back to the podcasting community as much as I have gotten from it. I could talk startups all day, in fact a couple of weeks ago I did just that with subscribers of this blog! Having these conversations in a podcast format for more people to benefit (versus one on one conversations) makes a lot of sense. Secondly, I want to expand my own personal brand in this arena. I really don't know why yet, but I enjoy the discussions I have with other startup founders.
In addition, I feel like no one actually puts the energy into marketing their podcast. Obviously, with my background being in digital marketing, I want to try and do something a little different with marketing this podcast.
The Inspiration Behind the Podcast
I always wanted to document a startup journey from the very beginning. One of my first inspirations in making this move was the Groove blog by Alex Turnball as they started documenting everything after eclipsing $28k/mo in revenue. Followed by some other transparent blogs like Buffer. It is quite another thing to be open about things when you are first starting out though.
For one, you could look like a fool if things don't progress. Secondly, you are paving a way for competitors very early in the process. That said, I still feel there is so much value in sharing the experience.
When I discovered podcasts last summer, they made a dramatic impact on the way I approach business. There are so many inspirations that we will be pulling from including:
And several more that I'm leaving out. Check those podcasts out if you haven't already! They all provide some great roadmaps and business lessons. Ours is going to be different in that we'll be going deep behind the scenes of our two startups and sharing the stories, challenges, and lessons as we go through them.
Startup Bundle Giveaway
Part of the marketing plan for the podcast is a pre-launch campaign. We are working on an impressive bundle of startup tools which we are going to give away to a lucky bootstrapper. We are still working out the details, but the idea is to giveaway some awesome tools (more on which tools will be announced later once we have finalized the participants) which cater to startup founders.
In exchange for us promoting their tool so heavily, we are asking the tools to help promote our podcast as well which obviously exposes our podcast to their audience. Have a tool that you'd like us to include and promote? Let me know!
Be sure to signup at www.ZerotoScale.com to be alerted once this giveaway starts as well as when the podcast itself launches! In addition, you can check out some audio clips of things we've already recorded just about our launch and some episode ideas. Check out the posts to go behind the scenes as we prepare to launch the podcast.
What We Are Working on Next
We are still putting the finishing touches on some pre-launch action items. Greg has been blogging about his journey to $20k/mo in recurring revenue and has a Facebook group with some members of his blogging community already in it. We renamed the group and are going to look at continuing to build that community.
There are some final things to work out with our giveaway and finding the right contributors for that.
We plan on recording more episodes so we have a backlog. Did you know that 90% of podcasts don't make it past episode seven? For that reason alone I want to at least have eight episodes ready to go!
I joined Podcasters Paradise, but have not yet dug into this community. This is something I want to really dive into before we launch as well.
We Need Your Help
Join us in our Facebook group where we will be going further into discussions. Request an invite here. There are already lots of great discussions happening as this was originally Greg's community with his blog where he discusses ramping up to $20k/mo in MRR. So since the audience is ideal for the podcast, we are just changing the group to be a community around the podcast and bootstrapping/startups in general.
In addition, please be sure to share the Thunderclap by clicking here and supporting it with Twitter or Facebook. Again, this will share a post from your account on April 2nd about our podcast launch.
Lastly, head over to the website and sign up with your email to be alerted when our giveaway launches, get episode release notices, and more behind the scenes details.
Conclusion
What are you looking forward to most? Do you have questions you'd like for us to answer? We will be taking questions from our two communities and discussing them live on the podcast from time to time.