I have always been curious to see how other entrepreneurs and startup founders spend their time and what they're working on.
I have seen several posts that provide "Income reports", but they don't really go into detail on the things they are working on – it's mainly about the results. I am more interested in the details that go into the results.
I figured I probably wasn't the only one, so I decided to start a monthly series that takes a look behind the scenes. This is the second "Month in Review" post and I'll be providing one every month.
You can read my first one here that documents my month of September.
Writing
October was a fairly busy content producing month.  I published the following blog posts here on this blog:
I had the day before, day of, and day after launch mini-series planned for awhile. I am going to look into packaging those three posts, along with the beta management post, and several more ideas into an ebook about launching a SaaS product.
My guest blog for Under30CEO went live here.
My guest blog for SEMrush went live here.
Here are a couple of blog posts I published for Workado:
I also spent around 7 hours preparing a massive guest blog for Search Engine Journal which is scheduled to be posted this week.
Reading
"The 7 Day Startup" by Dan Norris – I had pretty much followed this path when launching a similar business to his own with WordPress Webmasters, though we target a small niche with this.
"List Building – the Ultimate 30 Day Formula to Double Your Email List" by Nathalie Lussier. This quick read gave me a few good ideas:
Running contests using Contest Domination
Mapping out a sequence of different autoresponders
A link to this post which has 140 different guest blog post opportunities. (Side note, I was recently contacted by the author of another post that has 386 guest blog sites that I felt was worth sharing).
"50 Ways to Build Your Email Marketing List" by Pam Neely. This gave me the idea for the testimonial near the signup form to the right. I also changed my autoresponder message to new Twitter followers to promote the blog.
"Email Marketing Blueprint – The Ultimate Guide to Building an Email List Asset" by Steve Scott. From this book I learned how to develop in demand lead magnets. It was also helpful seeing how he built his autoresponders and when he triggers the emails to be sent. I was able to read half of this book while I waited for the poker game on 10/22 for two hours!
I still need to read Zero to One by Peter Thiel and Outsmarting the System by Anthony Campidonica.
My Projects
Lots of interesting things going on in October. It started with me having onboarded my brother to work as my assistant.
This sounded good in theory, but I had to shift him back to focusing on my agency as things were picking up there. So this sent me to oDesk to find a new virtual assistant. My aunt offered to help me with some tasks as well, so right now I have her in place.
I prepared tutorial videos for everything I'm having her do, which is helpful in case I need to find someone else for these tasks in the future. I also prepared writing guidelines and did a video tutorial for that and provided some examples of writing to follow.
For those interested, I use Jing (it's free!) to quickly just record my screen and record up to 5 minutes. Then Jing uploads it to Screenshare and gives me a URL to paste. Extremely helpful tool!
This process has gotten me really focused on developing training material with videos for easier onboarding of new help for just about everything.
In the beginning of October I got an invite to join the Micropreneur Academy. I had been waiting to join this academy for a few months after I first heard the founders and their podcast.
I also came across a Bootstrapped forum and have been participating there as well.
Workado
Most of my month was focused on Workado. I finally got it launched on 10-13-2014!
Aside from the things I posted about in the "day before, day of, and day after" blogs linked above, here's what else I did the rest of the month for Workado:
Customer support tickets/conversations through FreshDesk
Managed live chat
Had a meeting with my main developer and server admin to prepare for launch
Server admin moved the site over to Amazon AWS. This cut my hosting bill by about 30%.
Had two in person meetings. One to discuss a potential partnership and the other was an interview for an upcoming feature on Workado's blog.
Received feedback from a customer and realized what made us unique was in how we handle things in a monthly manner. I knew this, but didn't know how to best summarize it like the user did.
Mapped out a more robust task management system that stays within our monthly framework.
Sent out a "I messed up" email to Workado users and got some really cool feedback.
Here is the "I messed up" email I sent out: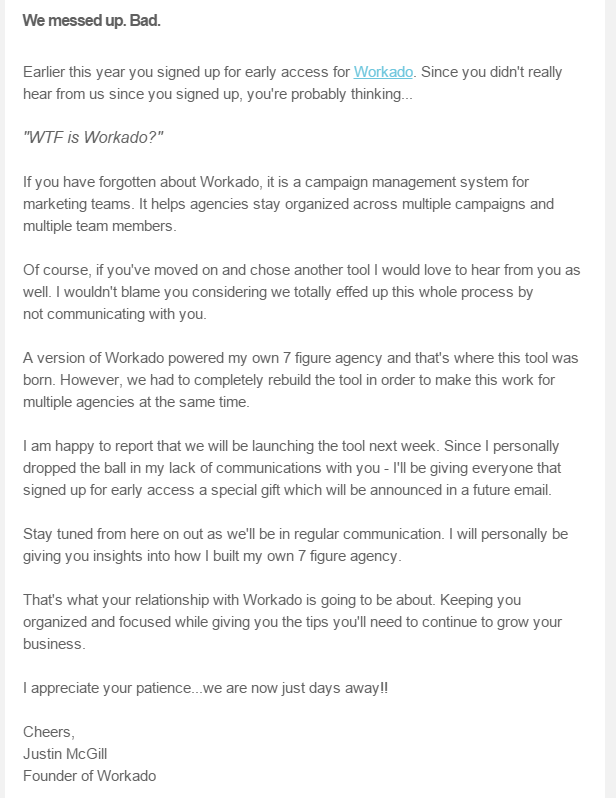 Here was some feedback I received on the email:



I was surprised that I didn't receive one negative response, which was nice.
November should bring the first revenue from paying customers. I have some really cool new features which are planned for November as well.
In addition, I am currently considering bringing on a CTO / Cofounder. This particular person was interested in partnering. I am paying him to work on some bug fixes first and then we'll see where it goes from there.  We met in the aforementioned Micropreneur Academy.
WP Edits
The big news here is I had to completely rebrand and relaunch WordPress Webmasters.
I reached out to Shawn of WP101 about potentially forming a partnership. I came across Shawn and his business through a podcast and figured we had a product that complimented his really well.
He let me know about the WordPress Foundation and how they do not let companies use "WordPress" in their name. Hence, why you see so many companies with "WP" in their name.
I went with WP Edits as it better reflects what we're offering (edits versus all new custom coding solutions).
This meant getting new emails setup, a new SSL, and moving the whole site over to a new domain.
We got our first customer on this platform this month and have had amazing feedback from her. I have purposely not done anything with this just yet as I am waiting for our automated lead generation system to be built out.
Basically, I have a system that will pull in all local businesses for a number of different industries in over 250 different cities. Then it will crawl those websites to determine which are running on WordPress (and the version of WordPress), and then it will crawl looking for email addresses.
There's a lot more planned for it, but once that part of the functionality is working we will start pursuing this a little more.
Upswing
My plan to scale back my involvement at my agency is going really well. We did take on a fairly big client this month ($5k/mo), that did involve an in-person meeting and some website planning, but that has been about it.
JustinMcgill.net
Mapped out more ideas for list building and some autoresponder sequences. Looking to applying several things I learned from the ebooks and podcasts I've been listening to.
I have prepared a full checklist of items to continue to add to this blog. It's primarily centered around building my list.
What I am realizing is I am going to have two fairly different lists. One is fellow entrepreneurs and people in SaaS. The other is focused on digital marketers. I am writing a book for digital marketers, so I need to start planning some list building initiatives there as well.
Consulting
This blog actually generated two consulting opportunities in October. That in itself is fairly interested, as I don't really push for this at all.
One of the consult sessions was for Justin Crossman. His product, Searchlight, has recently launched and he was looking for ways to generate a sales process that he could have some members on his team work on.
He approached me after reading about how my last business failed and he saw the sales process we developed.
I went down to their office and prepared a lead generation strategy, three different emails (one for initial outreach, and two more follow ups), and a spreadsheet for tracking.
The other opportunity that came through this blog wasn't so much a consulting gig, as it was a partnership opportunity. A reader contacted me to see if I would be interested in being his Cofounder for a survey/feedback tool he built.
This is a fairly crowded space though and I just didn't feel there was anything that really stood out with the product, so I turned that down.
Purchases
Books
I purchased "Getting Everything You Can Out of Everything You've Got" by Jay Abraham. Planning to read this, along with the other two books referenced in the "Reading" section above. I am not 100% sure if I will read all of them in November though as I'm also working on my own book.
Tools
Bugsnag – A very cool tool that sends me (and my developers) email alerts whenever it finds bugs in the Workado code.
New Relic – This helped us monitor Workado downtime issues.
Circloscope – A tool to help increase your Google+ following by automatically "circling" accounts who follow another particular account. This would be more helpful if you could filter out one's you've already followed. I haven't really used much since trying it out initially.
Hosting
Amazon AWS – Based on the recommendation of my server admin, we moved from Rackspace over to Amazon AWS. This helped save just over $100/mo in hosting costs.
Server Migration – My server admin got our new AWS account up and running and got everything moved over.
For Fun
The trip to Denver last month was fun, but I wished the outcome of the Broncos and Cardinals game was different. That said, I correctly predicted all four October games for the Cardinals.
I ended up just having a couple poker sessions in October. One was a $310 win in 3 hours of play on October 22nd and the other was a $200 loss in two hours on October 24th. Both sessions were $8/$16. I ended up $110 in 5 hours. Not great, but it was at least more than a big blind per hour.
I wasn't feeling poker too much on the 24th, but my brother wanted to go so I went ahead and went with him. I usually stay away from poker when I'm not in the mood, and this is why!
What's Next
November should be another busy month.
I have a new developer starting that was referred from a user on the bootstrapped forum. I also have a potential Cofounder discussion coming up with a different developer, but I'm going to get him in the code first.
I correctly predicted all games last month. There are  5 on the schedule this month. I originally saw us going 3-2 this month, but when Tony Romo went out I actually bet money on the Cardinals winning this past Sunday.
This means I'm predicting a 4-1 record over these five games. It is NOT going to be easy and I can easily see us at 3-2 this month. Here's my official predictions though:
Cardinals at Cowboys – Cardinals Win
Rams at Cardinals – Cardinals Win
Lions at Cardinals – Cardinals Win
Cardinals at Seahawks – Seahawks Win
Cardinals at Falcons – Cardinals Win
I can see us potentially losing to the Lions, but I could also see us potentially winning in Seattle. We shall see!
I won my survivor pool this past weekend for a nice $630 score. Thank you Rams (I was heads up and he had the 49ers) and thank you Seahawks (my winner pick over the Raiders).
I am planning to upgrade my Galaxy S4 to a brand new Note Edge. They just announced the release date of this Friday for AT&T customers. So I'll be getting one of those this month.
I should have more progress on my lead generation system I discussed in the WP Edits section above.
I am hoping to have a content plan mapped out for WP Edits as well.
I am going to be overhauling the Workado website this month as well after we roll out some key new features.
I'll be going gangbuster trying to land more guest blog placements. This also means, I'll be needing to get lots of content produced.
Lastly, I'm really looking forward to the release of Dumb and Dumber To and Horrible Bosses 2!
Have any questions? Let me know in the comments!